The gold futures contract lost 0.32% on Thursday after gaining 0.5% on Wednesday, as it fluctuated following the recent advance and another breakout above the $1,800 level. Gold price was gaining in a reaction to the weakening U.S. dollar, among other factors, and the market got close to the recent highs again. Last week on Monday gold reached the local high of $1,833 before reversing lower, and on Friday it traded as low as $1,781.30. This morning the yellow metal is trading along its yesterday's closing price, as we can see on the daily chart (the chart includes today's intraday data):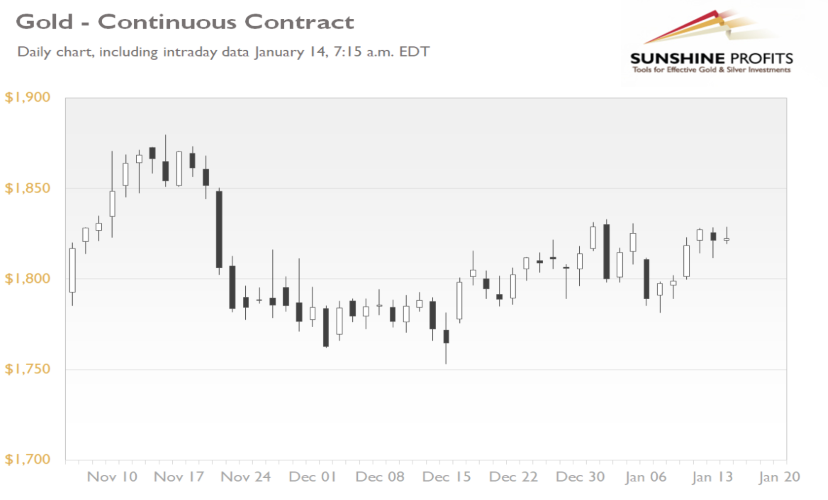 Gold is virtually flat this morning, as it is trading within a three day-long consolidation. What about the other precious metals? Silver is 0.1% lower, platinum is 0.9% higher and palladium is 0.1% lower. So the main precious metals' prices are virtually flat this morning.
Yesterday's Producer Price Index release has been lower than expected at +0.2% m/m and the Unemployment Claims number release has been higher than expected at 230,000. Today we will get the important Retail Sales release, among others.
Where would the price of gold go following last Friday's Nonfarm Payrolls announcement? We've compiled the data since September of 2018, a 40-month-long period of time that contains of forty NFP releases. The following chart shows the average gold price path before and after the NFP releases for the past 40 months. The market was usually advancing ahead of the release day and closing 0.26% higher on the 10th day after the NFP release.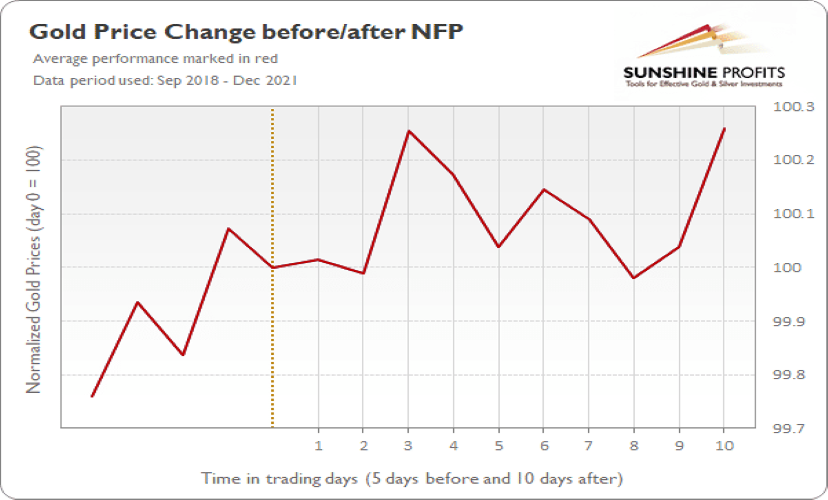 Below you will find our Gold, Silver, and Mining Stocks economic news schedule for today:
Friday, January 14
1.8:30 a.m. U.S. – Retail Sales m/m, Core Retail Sales m/m, Import Prices m/m
2.8:30 a.m. Eurozone – ECB President Lagarde Speech
3.9:15 a.m. U.S. – Industrial Production m/m, Capacity Utilization Rate
4.10:00 a.m. U.S. – Preliminary UoM Consumer Sentiment, Preliminary UoM Inflation Expectations, Business Inventories m/m
5.11:00 a.m. U.S. – FOMC Member Williams Speech